I am qualified to instruct you in the services below, either at my premises, your own home or any other convenient location. Click on each service to see more information about it.
At my premises, we can use the following equipment: Static DKN Bike trainer, Fluid E-316 Water Rowing Machine, Crazy Fit Vibration Massage Plate, Reebok steps, TRX suspension band, Resistance bands and Tubes, Dumbbells, Free Weights, Barbells, Sliders, Gym balls, Foam rollers, Pilates ring, Small Pilates ball, Medicine ball, Various mats, Tanita Body Scale, Blood pressure monitor, Heart Rate monitor.
Please contact me so we can discuss your requirements and I can answer any questions you may have, with no obligation for you to take up my services.
Gym instruction/ Free Weights
Are you currently working out in your local gym, or at your home gym, but you are not getting any results any more? Or would you like to start doing this in your own home or my premises, to have the benefit that you are doing the exercises correctly? I can provide you with a tailored exercise routine either using cardio machines, weight machines or free weights, such as dumbbells or barbells. Your routine will be specifically for your needs, safe and effective to reach your personal goals. I often combine strength training exercises with moderate to high intensity cardio workout to get better results in fitness and weight loss.
Padwork training/ Boxercise
This type of workout is fantastic to let of some steam! Based on boxing techniques, with boxing gloves and pads, you will improve your fitness, muscular strength  and coordination relatively quickly.  Padwork exercise is a full body workout.

It's fun and anyone can do it - no prior skill or knowledge is required in order to get started. You will learn in your own pace, and it is suitable for all fitness levels and ages. Give it a try! Anthony Joshua, here we come ;-)
Gym Ball training improve your posture, balance, increase flexibility and strengthen abdominal and back muscles. It's a safe, non-impact workout which is suitable for all levels of fitness and age groups. It offers a great variation to the usual Pilates and Yoga workouts. In a one-to-one environment you will really reap the benefits because I am able to correct your technique straight away, avoiding future injuries that might occur in a bigger group setting. Even in small group settings (up to six people) it is not the same, remember, one trainer has got only 2 watchful eyes.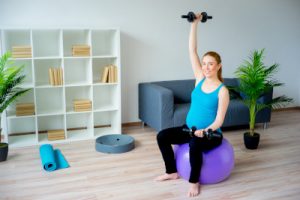 Suspension training is a form of resistance training that uses your own bodyweight to perform a variety of movement exercises. These are done with ropes and slings that are fixed to a wall bracket or a closed door (or outdoors).  If you want to improve and develop strength, balance, flexibility, and joint stability simultaneously, this is the exercise training for you. Suspension training develops physical strength whilst using functional movements and dynamic positions.  It is a great full body workout and can be tailored to all levels of fitness and age groups.
Specific mat work exercises and working out with resistance bands are excellent to strengthen the deeper muscle groups in your abdomen to support your spine, to regain or keep a healthy back.  Those type of exercises are also ideal for people of older age to keep up with their activities of daily living (ADL). Also widely used for rehabilitation or injury prevention. I am doing those for over 25 years and believe it or not, I am still improving.
Not wanting to feel out of breath any more if you go up a flight of stairs? Then this is the right activity for you - an excellent way to improve cardiovascular and muscular fitness in your own home. Only little equipment (or none) and space is needed to have fun and see results in a short time.  Suitable for any fitness level and age.
Improving or maintaining your joint movements and mobility with regular stretching exercises will help you staying mobile and active and having a healthy back.